Valuable fish stolen in Kirkpatrick Fleming and Gretna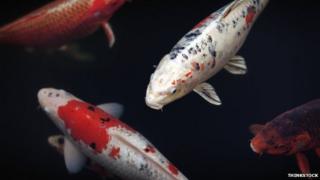 More than 30 valuable fish have been stolen from garden ponds in Dumfries and Galloway in two separate thefts.
A total of 16 fish worth about £400 were taken from water at a house in Grahamsfield, Kirkpatrick Fleming, on Sunday night or Monday morning.
Orange goldfish, black and orange koi and large orange carp were targeted in the raid.
It follows a similar theft in the Springfield area of Gretna, where about 15 koi carp worth £500 were stolen.
Police said the fish were taken from a pond at a house in Newton Square between 05:30 and 18:30 on 21 April.
PC Michelle Hamill said: "This is a very unusual type of theft for our area, and certainly to have two similar thefts, only a few miles apart and in such a short timescale does add to the theory that they may be linked.
"We are however keeping an open mind and would ask anyone who may have any information which may assist in these enquiries to get in touch with me though 101."