'Stolen' Kirkpatrick Fleming fish found 'lurking' in pond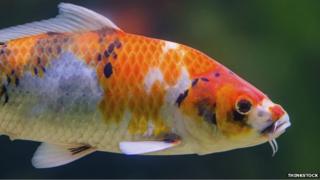 Valuable fish reported stolen to police in southern Scotland have been found "lurking" at the bottom of their pond.
A total of 16 goldfish, black and orange koi and large orange carp were thought to have been taken from the house at Kirkpatrick Fleming.
However, they were later discovered by the owner having been hidden out of sight below the water's surface.
Police are still investigating reports of a similar theft in the nearby Springfield area of Gretna.
In that incident about 15 koi carp worth £500 were stolen.
Police had been considering the theory that the two "unusual" types of theft could have been linked.
They are now only seeking information about one incident.