Vow to continue use of mobile speed cameras on A74(M)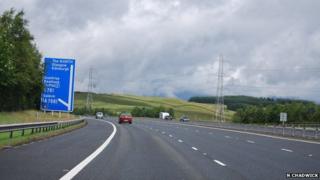 Police have pledged to continue to use mobile speed cameras on the main route between Scotland and England unless there is a "significant drop" in the number of accidents on the road.
It follows reports that camera vans caught more speeders on the A74(M) than on any other road in Scotland.
Police Scotland said more than 6,100 motorists were caught exceeding the 70mph limit on the road last year.
They said the vehicles' high speed can lead to collisions.
Insp Neil Hewitson, of Police Scotland's road policing unit, said: "The A74 Glasgow - Carlisle Road is one of the main arterial routes for traffic heading both south and north between Scotland and England and as such it carries a high volume of traffic.
"Such traffic volumes occasionally mean that there is more interaction between vehicles which results in crashes occurring many of which are exacerbated owing to the high speed of vehicles travelling on this particular road.
"Unless there is a significant drop in the number of crashes which we experience on this road we will continue to enforce at the locations listed."
The figures emerged in a Freedom of Information request to Police Scotland by Scotland on Sunday.
It found that parts of the road which runs through Dumfries and Galloway and South Lanarkshire accounted for half of the 10 worst roads for speeding offences.
A total of 1,883 speeding motorists were caught near Kirkpatrick Flemming, 1,696 near Abington, 962 near Lockerbie, 853 near Beattock and 743 near Ecclefechan.
What do you think of mobile speed cameras on the A74(M)? Do they help prevent accidents? Get in touch at dumfries@bbc.co.ukor Tweet us @BBCSouthScot.