Edinburgh cyclist wins Broughton road accident case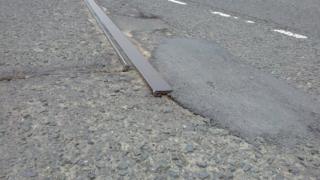 A cyclist from Edinburgh has won a case brought against a council after he crashed over a metal strip set in a Borders road.
David Robinson, 52, suffered a broken elbow and wrist in the accident at Broughton in December 2013.
The Court of Session found Scottish Borders Council was in breach of its legal duty to repair the hazard.
The council said the amount sued for was £100,000 but added it was still taking advice and might appeal.
The accident took place while Mr Robinson was out with a group of about 12 cyclists from Edinburgh on a Sunday morning ride.
The court heard how he spotted some grit on the road and moved out to allow both himself and a less experienced cyclist in his company to avoid it.
It was at that point that his bike struck the metal strip and he felt the handlebars being "ripped" from his hands.
He was catapulted over the bicycle and injured.
The council claimed the metal strip did not constitute a defect or anything which it was under a duty to remove or alter as the roads authority.
It also argued that there was no reliable evidence from Mr Robinson as to the precise cause of the accident.
However, Lady Wolffe concluded that the hazard posed by the road would have been apparent to a roads authority of "ordinary competence using reasonable care".
Brenda Mitchell, of Cycle Law Scotland, which was acting for Mr Robinson, said that she hoped that Borders' roads would now be safer for all two-wheeled road users as a result of the case.
She said it was "extremely disappointing" the council had "never actively applied their minds" to what constituted a hazard for cyclists and motorcyclists on its roads.
"More and more people are being encouraged to cycle and the Borders and the Tweed Valley actively market the region as a cycling destination," she added.
"This particular hazard has been fixed and I hope that the case has highlighted how the local roads authority can play its part in making the area safer for everyone."
A Scottish Borders Council spokesperson said: "The council is still taking advice on the judgement."
The local authority has not yet decided whether to accept the ruling or appeal and it said no damages had been agreed.