Interest in Dumfries and Galloway 'grow your own' teacher scheme revealed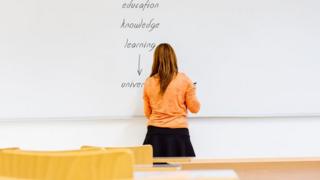 A project designed to help fill rural teaching vacancies in Dumfries and Galloway has revealed the level of interest in places this year.
The council-run "Grow Your Own" scheme initially let education department staff with degrees do a post-graduate teaching diploma.
Thirty people applied for nine training places in 2015.
This year the figure has risen slightly to 33 applications from council staff with 30 places being available.
The local authority had initially said only 18 applications had been received.
The scheme was introduced to help tackle problems in recruiting and keeping teachers in the region.
It was first opened to education department staff but extended to employees across the council this year.
The funding for successful applicants went down this year with a payment of up to £6,000 available.
In the first year of the scheme, the council continued to pay the wages of the staff involved during their training.
All those successfully completing their course are guaranteed an "induction year" from August 2017 at a school in Dumfries and Galloway.
The council said it would make "every effort" to ensure that was close to the home address of the person involved.
Following successful completion of the induction year, full registration is awarded and staff can then apply for available posts.