Statue of Polish 'Soldier Bear' unveiled in Duns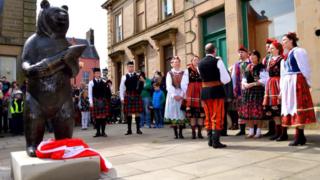 A life-sized statue of a bear which saw action in World War Two has been unveiled in the Borders town of Duns.
Wojtek - nicknamed the "Soldier Bear" - was adopted by Polish troops and helped them carry ammunition.
After the war, he lived in Hutton in Berwickshire before ending his days at Edinburgh Zoo.
The new statue has been gifted to the people of Duns by its twin town of Zagan in Poland. It was unveiled on Sunday in the town's market square.
Wojtek was adopted by Polish soldiers after he was rescued as a cub in the Middle East in 1943.
As well as carrying heavy mortar rounds at the Battle of Monte Cassino in Italy, he learned to drink beer.
At the end of the war he was billeted at an army camp in Hutton, 10 miles from Duns.
The new statue was unveiled by the Mayor of Zagan.