Dumfries and Galloway launches 'festival season'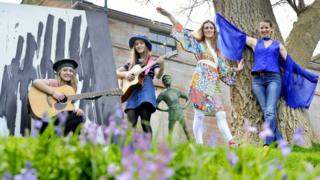 A selection of south west Scotland events have come together to launch "festival season" throughout Dumfries and Galloway.
The aim was to give a glimpse of what to expect from the likes of the Dumfries and Galloway Arts Festival, Spring Fling and Wigtown Book Festival.
They gathered at Moat Brae House in Dumfries for the launch.
Spring Fling director Clare Hanna said there promised to be an "amazing time" in store for the region.
Dumfries and Galloway Arts Festival kicks proceedings off and runs from 20 to 29 May this year.
The Spring Fling open studios event is from 28 to 30 May, with Wigtown Book Festival later in the year from 23 September to 2 October.
'Arts powerhouse'
Ms Hanna said: "What always takes people by surprise is that a rural region like ours can offer everything from visual arts and craft, through to comedy, music, theatre and literature.
"Dumfries and Galloway has a growing reputation as a powerhouse for the arts and cultural activities and we are really looking forward to welcoming visitors from all over the UK and far beyond throughout the year."
Dumfries and Galloway Council's events champion Colin Smyth said there was a "wonderful array of things to see and do" in the region.
Cathy Agnew, Peter Pan Moat Brae Trust project director, said it was delighted to work with the festivals.
In addition to the launch, it will be hosting an exhibition during the Spring Fling weekend and a book event.
Dumfries and Galloway Arts Festival producer, Lou Davies, said: "2016 sees our biggest and most ambitious festival to date with over 200 artists performing in 45 venues throughout the region and we are proud to say there really is something for everyone."