Borders Railway 'ambassadors' make their return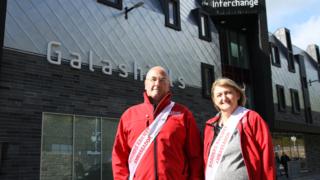 Official "ambassadors" for the Borders Railway are making their return in order to help "maximise the economic benefit" of the route.
They have been brought back at Tweedbank, Galashiels and Stow stations by Scottish Borders Council.
Their role is to provide a friendly welcome to train passengers and give information and advice to visitors.
They are currently working weekends only but that will step up to four days a week in July and August.
The service will officially finish at the end of October.
'Really important'
Councillor Stuart Bell said: "I have met some of the ambassadors and seen them engage with visitors.
"They make a great first impression so the role these ambassadors play is really important.
"The ambassadors scheme is just one part of our efforts, along with those of our partners, to make the very best first impression on tourists arriving in the Scottish Borders."
Mr Bell said tourism was "vital" to the local economy and having ambassadors at the three stations in the region could help promote the area.