Moffat woodland takeover funds secured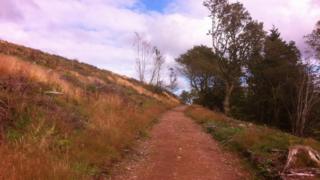 A community woodland purchase in the south of Scotland is set to proceed thanks to a funding award.
The recently relaunched Scottish Land Fund (SLF) has awarded £171,622 to Moffat Community Woodlands (MCW).
It will use the money to buy 33.4 hectares (82 acres) of land on Gallow Hill which overlooks the town.
A further award of £85,000 has gone to the Barmulloch Community Development Company to fund its purchase of the Broomfield Road Centre in Glasgow.
The awards are among the first to be made by the relaunched fund.
MCW intends to work with Forestry Commission Scotland to replant the land with a broadleaf woodland and begin the process of returning the hill to the way it looked when Moffat was a renowned Victorian spa town.
'Excellent example'
As well as making more of the views south over Annandale and north to the Devil's Beef Tub, the replanting will, in time, increase biodiversity and allow a broader range of wildlife to flourish, making the hill "a more attractive place for locals and visitors to the town to enjoy".
Tom Mulholland, who chairs MCW, said: "This grant will enable us to improve recreational opportunities for the people of Moffat, and visitors to the town.
"Ownership of Gallow Hill gives the community the opportunity to enhance the natural environment of the hill for future generations, including the town's recently awarded Dark Sky status."
David Johnstone, of landowners Annandale Estates, said they were delighted to work with the people of Moffat.
"It is an unique area that the community have had access to for recreation for many years," he said.
"We realised that when the current forestry crop was harvested, it presented a great opportunity to gauge the local interest in taking on the ownership.
"It has been a long but rewarding experience to see this come to fruition."
John Watt, of the SLF, said the project was an "excellent example" of a community using the resources available through the fund to meet its needs.
"I wish MCW every success as they go on to own and develop Gallow Hill for the benefit of the community and generations to come," he said.
'Economic development'
Environment Secretary Roseanna Cunningham said it was great to see the first awards from the relaunched fund.
"The SLF is making a real difference to many local communities across Scotland helping community groups to purchase their own land," she said.
"MCW is to receive a grant to support their ambition to own and manage the land at Gallow Hill.
"The community are ambitious and engaged with their plans to improve their local environment and encourage economic development.
"The skills, resourcefulness and vision they have shown is reinforcing my belief that communities are best-placed to decide their futures."