Borders General Hospital delivers 'safer environment'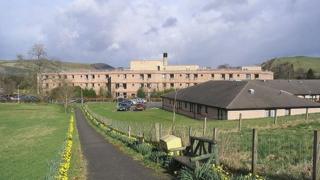 NHS Borders has said improvements are in place, with more to come, at a hospital criticised by an ombudsman for the third time in about six months.
Medical director Dr Andrew Murray said patients should find a "safer environment" at the Borders General.
Its medical assessment unit was criticised by the Scottish Public Services Ombudsman last week.
Dr Murray said changes in care had already been implemented and more were set to follow.
The latest investigation upheld a complaint from the daughter of a dying patient last year.
It found that basic checks had not been carried out, or acted on quickly enough, and her family not informed soon after she deteriorated.
'Earlier issues'
Dr Murray said the health board had already acted to tackle some of the problems raised.
He said they had not been "waiting specifically" for the report in order to act and had moved to tackle concerns they had had as well.
"We feel that the earlier issues that were highlighted - we have worked hard to address those," he said.
He accepted that there were new issues which had been brought forward in the latest report.
"We are now looking back to when the care took place," he said.
"We are able to see some of the processes that we have changed, some of the extra assurance that we can now get that people would come into a much safer environment than perhaps they would have done last year," he added.