Dumfries and Galloway artists fling open studio doors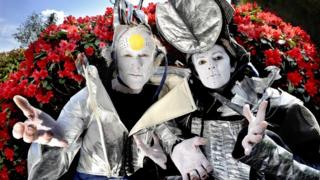 Dozens of artists and craft makers in Dumfries and Galloway are opening their studios and workshops to the public as part of the annual Spring Fling event.
The three-day showcase is expected to draw in thousands of visitors and provide a major economic boost.
This year's programme will include the addition of poet Skye Loneragan as writer-in-residence.
She will travel the studio routes and draw on her meetings with visitors and artists to produce a suite of new work.
It will be performed at the Wigtown Book Festival in the autumn.
The Spring Fling runs from Saturday to Monday at locations throughout the region.