Dumfries and Galloway alcohol support programme funding fears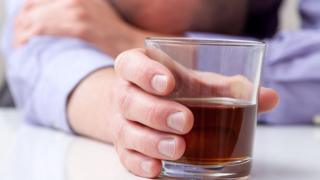 A health expert has voiced concern at any possible impact of funding cuts on a programme for people with potentially harmful drinking patterns.
The "brief intervention" scheme focuses largely on patients attending GP surgeries and accident and emergency units, as well as pregnant women.
However, the organisations behind it are both facing budget constraints.
NHS Dumfries and Galloway's Dr Andrew Carnon said any reduction in the service would be a blow.
The scheme involves holding short conversations with those whose alcohol intake is considered risky to encourage them to think about changing their drinking habits or seek help.
NHS Dumfries and Galloway and the region's Alcohol and Drug Partnership (ADP) are expected to carry out at least 1,743 interventions a year but has raised concerns that target could be at risk due to financial pressures.
Joint Interim Director of Public Health, Dr Carnon, who also chairs the ADP, said that could have an effect on a valuable programme.
'Important aspects'
"There is a good evidence base supporting the use of alcohol brief interventions - this has been known for the last 10 years or so," he said.
"It definitely can help people who are perhaps drinking a little bit too much more than would be good for their health to reduce their level of alcohol.
"It certainly gives them the opportunity to consider their alcohol intake and, if they wish, to think about changing their pattern of drinking."
He said there was a "challenge" in maintaining all the work of the ADP.
"Clearly with a cut in funding it won't be possible to do everything that has happened in the past," he said.
"The aim would be to maintain the very important aspects of interventions such as delivering these alcohol brief interventions."
He said maintaining access to treatment services would also be a priority.