Management buyout bid at Selkirk-based Spark Energy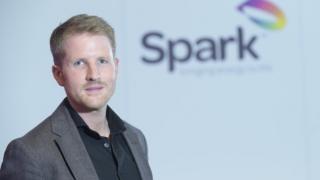 A management buyout is "close to completion" at Scottish Borders-based company Spark Energy.
Directors have recommended acceptance of the proposals when shareholders meet next month.
The move - led by chief executive Chris Gauld and finance chief Hamish Osborn - has been backed by "four large institutional investors".
It requires the support of 75% of shareholders and if approved would be completed in August.
The value of the deal has not been disclosed but the company said shareholders would see a return on their investments.
It said it would also "significantly increase access to growth capital, in order to allow rapid expansion".
Chairman Sir Timothy Noble and his fellow non-executive directors would resign on completion of the deal.
He said he would leave the role with "great pride" at what the company had achieved.
'Vibrant team'
Mr Gauld said: "This is the natural next phase in Spark's evolution.
"Whilst we can be proud of our achievements so far, we have big plans for an exciting future.
"The new institutional backers have the extra financial strength and experience to enable us to fund and accelerate the next steps in our ambitious plans, and to realise our full potential."
He said he was confident the deal would go through and underlined the company's commitment to southern Scotland.
"Spark's success owes much to our vibrant team of 350 staff, who live mostly near our Selkirk headquarters," he said.
"I can assure them that our future lies firmly in the Borders, and that we will be looking to build our team in the months and years to come."
Scottish Enterprise's Adrian Gillespie described the buyout as "excellent news and testament to the focus, drive and determination of Spark's leadership team".
"We've worked closely with the company since start up to provide growth finance through our Scottish Investment Bank and intensive business development support through our scaling programme which is dedicated to businesses with high growth potential," he said.
"We look forward to continuing to work with the company as it goes from strength to strength to reach its full growth potential."