Dumfries car sex attack witnesses sought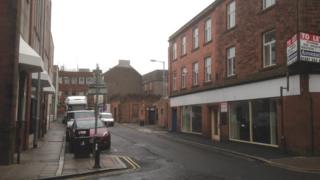 Police are seeking witnesses after a woman was sexually assaulted after getting into a car she believed to be a taxi in Dumfries.
The incident happened in the town's Munches Street on Saturday at 23:00.
The woman got into a "grey or silver" car in the car park to travel to the Rotchell area of the town.
Police said that during the journey the driver made "improper suggestions" to the victim and then sexually assaulted her.
They said the woman had not been injured but was left in a "shocked and distraught" state.
The driver of the car has been described as being white, in his 30s or 40s, of medium build and with a shaved head.
He was clean shaven and was wearing light coloured jeans. Police said he may have spoken with an eastern European accent.
Det Sgt Scott Torrance said: "Munches Street on a Saturday night is a busy place and we are appealing to anyone who may have been in that area to call us on 101 if they can help us identify this man or his car.
"The car is thought to be silver or grey in colour.
"We also want to hear from anyone who may have had any similar experience, either on Saturday night or on a previous occasion, where they may have got into a car which turned out not to be a registered taxi."