Galashiels man jailed for raping pregnant women in Dumfriesshire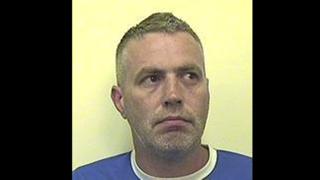 A man who raped two pregnant women has been given a 10-year extended sentence at the High Court in Livingston.
Colin Mackinnon, 42, of Galashiels, received a seven-year jail term followed by three years on licence.
If he commits further offences or breaches conditions during the licence period he will return to prison to serve the rest of the sentence.
Mackinnon was previously found guilty at the High Court in Glasgow of rapes involving two women in Dumfriesshire.
His crimes only came to light after one of his victims spoke out.
She contacted police who investigated her claims and tracked down other women who made similar allegations against him.
Not proven charges
Although Mackinnon denied the catalogue of charges, a jury found him guilty of three counts of rape.
The first was on an occasion in early 2000 where he assaulted a pregnant woman by seizing her by the body, pulling her onto her back and raping her.
He was found guilty of assaulting and raping a different woman on various occasions between March 2007 and June 2010 while she too was pregnant.
He was also convicted of assaulting and raping the second woman again between June 2010 and November 2010.
The jury returned verdicts of not proven on other charges of rape involving a third pregnant woman between June 2012 and March 2013.
'Real danger'
Judge Lord Bannatyne told Mackinnon that his name would remain on the sex offenders register indefinitely and Scottish ministers will also be notified of his conviction under laws designed to protect vulnerable groups.
Det Insp Robin Ferguson welcomed the sentence.
"This man is clearly a real danger to women and this sentence reflects the seriousness of his crimes against his victims who were terrified of him," he said.
"Tackling rape and sexual crime is a key priority for Police Scotland and we are committed to continually improving our response to reports of sexual offences and conducting robust investigations.
"Victims of sexual crime can be confident that we will listen to them and investigate their report thoroughly, no matter how much time has passed."
He said every investigation would be "victim-focused" and designed to meet their individual needs.
"This man is where he deserves to be and where he can no longer terrorise women," he added.