Your views: Dumfries and Galloway transport solutions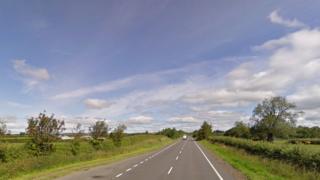 A much-anticipated transport summit has been held in Dumfries looking at the key issues facing the region.
Transport Minister Humza Yousaf and Deputy First Minister John Swinney were in attendance.
They heard from a number of politicians and other local groups about their concerns.
BBC Scotland news website readers have also sent in their views about what should be top of the agenda.
---
Rail route reopening?
Bill Harrow emails: The biggest problem facing Dumfries is the transport links to our major cities. The rail and bus links to Glasgow take approximately two hours and there is no direct rail link to Edinburgh with the bus taking around three hours. How do we attract people to live and commute from the town and how do we attract more visitors with such poor infrastructure and communication links?
John Eastham emails: The answer could be to provide a direct rail link to Edinburgh and Glasgow utilising the current West Coast Line. We propose reopening the rail line from Dumfries to Lockerbie which closed in the 60s.
---
Emulate the Borders?
David Dale-Sunley emails: if Dumfries is to survive we need a total upgrade of the A75 it would be a dual carriageway anywhere else in the country
Liz Murray emails: The new Borders Railway is a half-hourly service to Edinburgh which is very successful and easy to access. If there was a similar half-hourly service from Dumfries to Carlisle it would help greatly improve and encourage travel for commuters, visitors, tourists, shoppers and those travelling to Dumfries as the final leg of a longer journey. How about a trial for six months or a year?
Susie Parker emails: In order of importance:
Making a commuter cycle path between Creetown and Newton Stewart. Present path unsuitable for cycling only for slow leisure travel.
Restore a fit for purpose bus service to Cairnryan.
Integrate timetable for travel in the region. Presently, for example, the bus from Stranraer main 500 service through region to the railway station, arrives just after Glasgow train leaves Dumfries station.
Upgrade A75 to create bypass around Springholm and Crocketford village centres.
Have average maximum speed cameras along the route as timber lorries very dangerous at the speeds they travel.
---
Ferry link upgrade
Peter Wilkinson, of Dalbeattie, emails: By putting back the rail link to the ferry ports, surely we could then get most of the huge amount of heavy trucks off the A75, then this road would be much safer. Or a new dual carriageway from the M74/A75!
Sandra Harrison emails: The A75 needs to be made into a dual carriageway. Because of the speed restriction on HGVs people (especially idiots) get impatient and accidents occur. Dumfries and Galloway is largely agricultural and tractors, etc, also need to use the road.
Bill Wigram emails: I live in Kirkgunzeon, and we are well enough served here, however I did live in Isle of Whithorn and travelled throughout the county from there. I feel that the greatest need is to put the through traffic to and from Ireland onto dual carriageways and/or railway.