Richard Arkless 'confident' Penman Engineering buyer can be found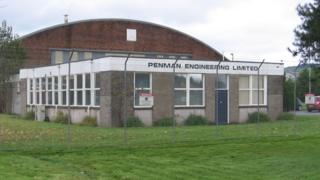 Dumfries and Galloway MP Richard Arkless has said he is "confident" a buyer can be found for an armoured vehicle firm in administration.
It follows talks with administrators appointed this week at Penman Engineering near Dumfries.
Mr Arkless said it was clear that the core of the business was still "extremely viable".
Administrators Armstrong Watson have said they are pursuing a sale to retain the "maximum number" of jobs.
Following talks, the MP voiced optimism that the business could be saved.
"They operate in a very specialised market place and have future projects on the order books," he said.
"There is still a demand for the goods that Penman produce and I am pleased to confirm that there has already been interest from some potential buyers."
He said the administrators now had the job of "packaging the company up to make it as attractive as possible to those buyers".
"With such a strong and dedicated work force of highly skilled engineers I am confident that a buyer will eventually be found but there is a lot of work to do before we get to that stage," he added.