Flu outbreak shuts Dumfries hospital ward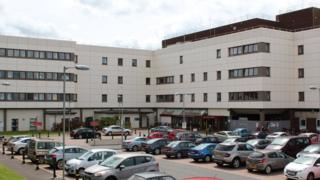 A hospital ward at Dumfries Infirmary has been shut due to a flu outbreak.
NHS Dumfries and Galloway said ward 9 had been closed to all admissions and transfers due to Influenza B.
It said routine visiting had been temporarily suspended and "all infection control measures" had been put in place.
Infection Control Manager Elaine Ross said there had been an increase in cases both in the hospital and in the wider community.
"We thank everyone for their support during this time," she said.
"If you have not yet had your flu vaccination, please do not hesitate to do so.
"Simple precautions such as hand hygiene and keeping your hands away from your eyes and mouth can reduce the risk of you catching the virus."