Facebook lifts Christmas card ban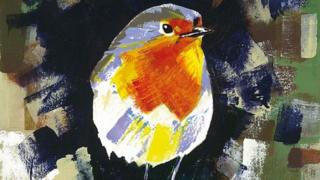 Facebook has lifted a block on a Borders' artist's Christmas cards after mistaking them for "adult items".
The social media firm had initially told Jackie Charley, from Denholm, they could not be approved for sale.
She said she could not stop laughing after her work - featuring a robin, stag and a squirrel - was blocked for its "shameful, sexual nature".
Facebook said a glitch had led to the incorrect assessment but the block had now been lifted.
Ms Charley highlighted the situation late last month.
"Hilariously, Facebook has blocked my Christmas cards from becoming a product in my shop due to their shameful, sexual nature," she posted.
"'It looks like we didn't approve your item because we don't allow the sale of adult items or services (eg sexual enhancement items or adult videos).'"
She then asked the public to judge for themselves, posting the pictures of winter scenes.
However, Facebook confirmed it had now addressed the situation.
"Our team processes millions of images each week, and occasionally we incorrectly ban content, as happened here," a spokesperson said.
"We approved Jackie's post as soon as we became aware of our mistake, and are very sorry for the inconvenience caused."