Selkirk town centre machete man jailed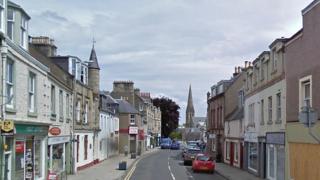 A 20-year-old man who was armed with a knife and a machete in Selkirk town centre has been jailed.
Philip McMillan told passers-by there was going to be a "bloodbath".
He admitted charges of threatening or abusive behaviour and possession of bladed articles in public, as well as various breaches of bail.
He was jailed for a total of 388 days at Selkirk Sheriff Court, backdated to 13 November when he was remanded in custody.
The court heard how McMillan was involved in a late night altercation with youths on the town's High Street on 3 February.
He later alarmed two people who were sitting outside the Post Office by waving the machete and knife in the air saying "there was going to be a bloodbath."
McMillan, formerly of Selkirk, then struck the wall with one of the weapons close to one person's head.
Hunt down
The court was told police arrived on the scene and found McMillan underneath a car in the Sainsbury's car park with the weapons lying discarded on the ground.
He was abusive to police officers saying he would hunt them down on their day off and kill them.
Procurator fiscal Graham Fraser said McMillan had consumed three bottles of Buckfast along with blue tablets.
He told police he was a traveller and that he was not going to use the weapons, adding: "I was just off my nut on valium."
Defence lawyer Ed Hulme said his client had little recollection of the events.
Sheriff Peter Paterson said there was no alternative to a custodial sentence highlighting the combination of possession of weapons along with McMillan's state of intoxication through drink and drugs.