Selkirk-based Spark Energy plans to recruit 160 new staff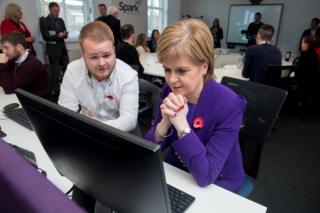 Selkirk-based Spark Energy has announced plans to recruit another 160 staff next year.
It comes a little over a year after the official opening of its Spark Academy in the Borders town.
It said it had provided training for nearly 200 staff in a variety of roles over the past 12 months.
Director John Hawkins described it as a "fantastic milestone" for the training academy and showed the benefits the company could provide the whole region.
"Most of Spark's staff live within 10 miles of Selkirk, making an invaluable contribution to the jobs market in the local area," he said.
"But we're growing quickly and now also have teams in Edinburgh and Horsham so we're always on the lookout for new talent to help the business provide a great experience for our customers."
He said the Spark Academy was a vital part of the process to help train new staff and develop current employees' skills and careers.
It was officially opened last year by First Minister Nicola Sturgeon.