Galashiels job centre move approved on appeal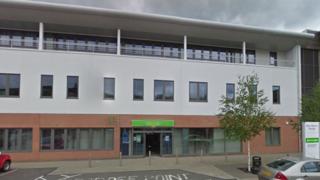 A council decision to reject plans to move a job centre in the Borders has been overturned.
The local authority refused the bid in Galashiels due to the "loss of prime retail floor space" in the town.
However, the Department for Work and Pensions appealed against the decision to the Scottish government.
A reporter has now ruled that the move can go ahead, allowing the switch from New Reiver House to empty retail units on Douglas Bridge.
Scottish Borders Council had said the move into the former Internacionale outlet was not appropriate in a "principal shopping street" and "key approach to the town centre".
'Significant footfall'
The appeal argued that bringing more than 150 people a day into the area would actually help to enhance it.
A Scottish government reporter decided it was unreasonable to conclude the proposed use was likely to deter visitors.
She said the development would generate "significant footfall" which meant it was appropriate for the area.
She had seen no evidence of "anti-social activity" near the current centre which had been raised as a concern, she added.
"Whilst I acknowledge the concern, any adverse impacts resulting from the clientele of the proposed job centre is a matter that is more appropriately dealt with the by police," she concluded.