Logo move attempts to tackle Galloway cattle confusion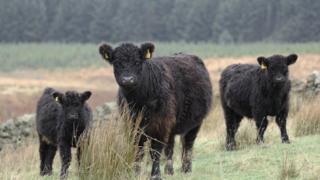 One of Scotland's "oldest and purest" cattle breeds has been given its own logo.
The move is part of wider efforts to clear up confusion among customers over the term "Galloway beef".
It hopes to ensure that it refers to the Galloway cattle breed rather than simply animals reared in the area.
John Finlay, who chairs the Galloway Cattle Society, said one way to achieve that was by creating an "easily identifiable brand" with the logo.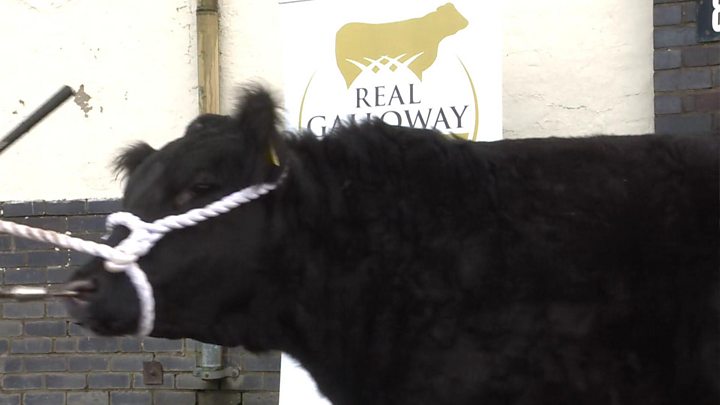 It was officially launched at the Dumfries Cattle Market on Huntingdon Road.
The Galloway Cattle Society said that meat from the breed had some distinct properties which marked it out.
They include "marbling of fat through the meat and balance of omega oils".
The breed is also popular outside Scotland with delegates from 15 different countries attending the World Galloway Congress last year.
"The Galloway breed produces probably one of the best quality beefs in the world - it is renowned all over the world for the quality of the beef," said Mr Findlay.
"It has probably been undersold in the past - our numbers have never been that great that we can supply a big supermarket trade.
"But it looks like our numbers are increasing and because of that I think, in the future, we will be able to supply a much wider area of the public."
He said the idea was to clear up any confusion among customers about what they were consuming.
"The logo itself is really to define that this is Galloway beef, from the breed, that you are going to eat," he said.
"When you see the logo you know then it is not just beef that has been bred somewhere and reared somewhere in Galloway, that it is actually from the breed Galloway."
He said they hoped as many producers as possible would use the new branding so that customers could easily find the product.
"The beef that is Galloway beef will always be stamped with this logo," he said.