Historic Jedburgh Abbey attacked by vandals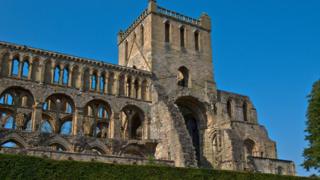 Vandals have damaged one of the historic Borders abbeys which dates back to the 12th Century.
Floodlights were damaged, plants uprooted and a bin set alight at the Jedburgh site some time between 27 and 28 December.
Police said an attempt had also been made to break into a storage unit on the grounds.
PC Stuart Little described it as a "mindless act of reckless destruction" with no thought of the consequences.
"A local historical landmark has been targeted for no reason resulting in significant damage, which may impact on the public's ability to enjoy the site," he said.
"Anyone who remembers seeing any suspicious activity around the abbey, or who can help identify those responsible should contact police immediately."
The total cost of repairing the damage has yet to be established.