Lucky escape as car flips into burn near Annan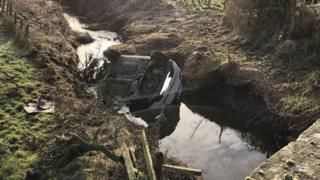 A woman is being treated for minor head injuries after her car ended up on its roof in a burn.
The incident happened on the B723 near Annan at about 08:20.
Emergency services were called out to the incident and passers-by also assisted in getting the woman to safety.
A police spokesman described it as a "lucky escape" and said the woman, who was the only person in the vehicle, had swerved to avoid an animal.