Dumfries and Galloway Council administration proposes tax rise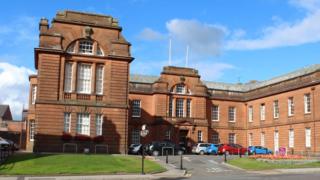 The ruling Labour and SNP coalition on Dumfries and Galloway Council is proposing a 3% increase in council tax.
It said the move would help bridge a total funding gap of £10.7m.
Leader, Labour's Elaine Murray, said that the additional income was vital to help limit the impact on key services across the region.
The budget proposals include a range of anti-poverty measures, year-round free school meals and investment in school wireless technology and roads.
The council will meet to agree its council tax and budget next week.
Dumfries and Galloway Council tax proposed changes
Band
2017/18 charge
2018/19 charge
A
£720.31
£741.92
B
£840.37
£865.58
C
£960.42
£989.23
D
£1,080.47
£1,112.88
E
£1,419.62
£1,462.21
F
£1,755.76
£1,808.43
G
£2,115.92
£2,179.40
H
£2,647.15
£2,726.56
Among the priority capital projects which would share more than £76m are:
Stranraer waterfront
the second phase of Dumfries learning town
the Borderlands growth deal
Ms Murray said there was little choice but to increase council tax.
"That is equivalent to 61p a week on a band D property but it is necessary to protect the services we have got," she said.
"Dumfries and Galloway will probably still have the lowest council tax in mainland Scotland - a fact which actually disadvantages us to the tune of about £6m.
"We have taken that difficult decision but we hope that people will understand why we have done that."
She said the council would try to make any savings by "doing things differently" while protecting vital services.
Deputy leader, the SNP's Rob Davidson, said the plans would work with communities to achieve "what matters to Dumfries and Galloway".
"Our plans will help create a region where success can flourish in all corners of our diverse and distinct communities," he said.
"We believe that this budget is a statement of intent, in which we start to deliver on our commitments to community empowerment and growing Dumfries and Galloway to become a sustainable and successful region."
Opposition Conservative councillors have also tabled a proposed budget which would see tax rise by 3%.
It would have different spending priorities and would also halt funding of the Whitesands flooding project in Dumfries.
Group leader Ian Carruthers said the party had tried to protect frontline services as best it could while maintaining a no compulsory redundancies policy.
"By stopping the Whitesands - without taking into consideration the costs for the inquiry that is going to go ahead with the Scottish government - that allows us to put forward our proposals to spend £1.412m extra on roads," he said.
"To say roads is an issue in Dumfries and Galloway is an understatement."