Eyemouth lifeboat assists broken window trawler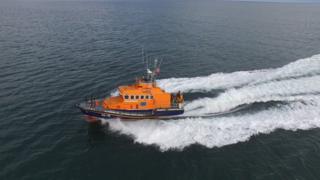 A lifeboat was called to assist a trawler with a broken wheelhouse window off the Borders coast.
The incident happened at about 11:20 on Monday.
The Eyemouth lifeboat was called out to help the trawler which was en route from Kirkcaldy to Blyth.
The vessel was heading to Eyemouth to make repairs but it was unfamiliar with the harbour entrance and so the lifeboat was launched to escort the trawler back to port.
The RNLI said the lifeboat was quickly on the scene about two miles from Eyemouth and stood by while the tide rose sufficiently to allow the trawler to enter the harbour.
It was stood down after about 90 minutes.