Helicopter joined Venlaw Forest indecency hunt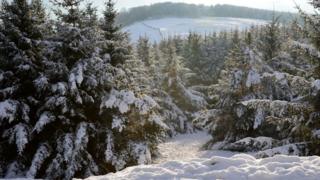 A police helicopter was called out in the Borders after reports of a man indecently exposing himself.
Members of a mountain rescue team were also involved in the search of Venlaw Forest near Peebles on Wednesday afternoon.
It followed reports of the man exposing himself to two women, the first of whom was walking a dog.
Police were called out at about 14:15 but the man made off through the forest and could not be traced.
He has been described as white, in his 40s, about 5ft 10in tall and of slim build with grey hair.
He was wearing a grey/blue jacket, grey trousers and a hat.
Insp Mike Bennett said: "Not only did this man's behaviour cause distress to those who witnessed it, but also used considerable police and partner resource in trying to locate him in cold and snowy conditions.
"Officers, the police helicopter and colleagues from mountain rescue all attended and made efforts to trace him but he was not found.
"This is being treated as an indecent exposure and I would urge anyone who may have seen the man in or near the forest to please come forward and assist with our inquiries."