'Disgusting' thieves target 85-year-old in Dumfries retirement flats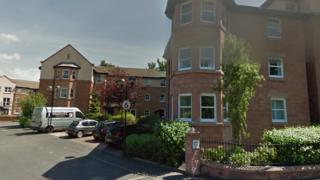 An 85-year-old woman has been targeted by thieves in her flat in a retirement complex in Dumfries.
Two women gained entry to the Granary buildings in Glebe Street at about 15:00 on Wednesday by pretending to be there to discuss care arrangements.
After leaving it was discovered their victim's purse - containing cash and cards - had been taken.
PC Sandy Currie described it as a "disgusting" theft and appealed for information.
He said police wanted to trace two women in connection with the incident.
The first was in her early 20s, of Asian/Mediterranean appearance, about 5ft 5in tall with dark hair and described as "hard faced".
She was wearing a dark brown jacket which had a hood and she spoke in broken English.
The second woman was said to be of similar appearance but slightly older.
Anyone who saw anything in the Glebe Street area at the time of the offence or can help identify the women has been asked to come forward.