Man jailed over Dumfries assault and robbery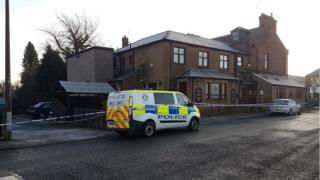 A man has been jailed over an assault and robbery in Dumfries which sparked a major police operation.
They sealed off an area around the town's Balmoral Road in December last year as they investigated the incident.
Leigh Shields, 34, admitted forcing open the door of a property, punching a woman, pressing a penknife against her neck and robbing her of £350 and a mobile phone.
He was jailed for 26 months at Dumfries Sheriff Court.
Shields, described as a prisoner at Kilmarnock, also admitted breaking into a pharmacy in Wigtown on Christmas Day and stealing a quantity of diazepam tablets, and the following day breaking into a pharmacy in Dumfries with intent to steal.
Solicitor Roger Colledge said Shields had resorted to diazepam after suffering the loss of his father last year and was now ashamed of his behaviour.
Shields had worked in the scallop fishing industry and now just wanted to pull himself together and get back to his work, he said.