NHS Dumfries and Galloway seeks waiting time funds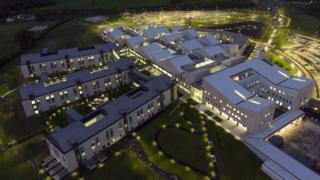 A health board has laid out a case for a £4.5m investment to reduce waiting times and pressure on emergency care at the new Dumfries Infirmary.
NHS Dumfries and Galloway's annual operational plan contains the request for extra Scottish government funding.
The bulk of the cash would be used to bring in-patient, day case and out-patient performance back on target.
Chief operating officer Julie White said £1m was also earmarked to boost staffing.
It would help to meet the four-hour treatment standard for its emergency centre.
"We have as a system experienced considerable challenges in both our treatment time guarantee and our out-patients and our day cases," said Ms White.
"We will be working closely with our clinical teams to look at the use of any additional investment that we receive from the Scottish government to support us to improve our waiting time position."
Ms White said they had carried out tests before moving into the new hospital but it had become clear emergency care was under pressure.
"Once you're in the new environment, once you introduce the new systems and processes you get a better understanding about where the gaps are and what the issues are," she said.
"The work that has been undertaken so far within the emergency care centre would indicate that we would be looking to increase our staffing levels."