Walter Scott Prize shortlist revealed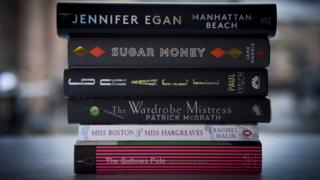 The six-book shortlist for the £25,000 Walter Scott Prize for historical fiction has been revealed.
Jennifer Egan, Jane Harris, Paul Lynch, Patrick McGrath, Rachel Malik and Benjamin Myers are in the running for the award this year.
Judges said it had been a "real treat" to explore the different periods of history the books covered.
The overall winner will be announced at the Borders Book Festival in Melrose on 16 June.
The six books on the shortlist are:
Manhattan Beach by Jennifer Egan
Sugar Money by Jane Harris
Grace by Paul Lynch
The Wardrobe Mistress by Patrick McGrath
Miss Boston and Miss Hargreaves by Rachel Malik
The Gallows Pole by Benjamin Myers
The judges said: "This year's shortlist encompasses the rural and the urban, the exotic and the everyday, the epic and the intimate.
"The narrative drive in each of our shortlisted books is compelling, and on the pages are universal truths with which we can identify.
"The judges are relishing the challenge of alighting on a winner."