JMW Turner and Walter Scott links celebrated in new exhibition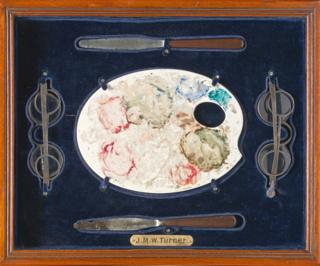 The links between the artist JMW Turner and writer Sir Walter Scott are being explored in a new exhibition.
The display at the author's former home - Abbotsford House in the Scottish Borders - opens on Monday.
Among the highlights is the return of a Turner sketchbook for the first time since the artist himself brought it on a visit in August 1831.
A number of his personal painting effects are also part of the exhibition which runs until 30 November.
Kirsty Archer-Thompson, of the Abbotsford Trust, said: "I think that interactions between the famous figures of our past remind us how dynamic that past was.
"In terms of collaboration and marketing coups, the partnership of Turner and Scott was revolutionary in the history of the book.
"But on a human level, their relationship was more interesting still, plagued by the suspicion, anxiety and miscommunication between two men desperate to make their mark and cement their legacy."
The relationship between the two began in 1818 and culminated in the publication of Turner's illustrated editions of Scott's poetry and prose works after the author's death in 1832.
"This is a story about the vulnerabilities of artists as people, but also about how those people find a way forwards to reconciliation - and perhaps even friendship," added Ms Archer-Thompson.
"I think that, for that reason, it's still a very relevant story to the world of today."