Support plan hatched for Pinneys plant in Annan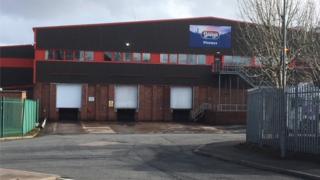 A council hopes to secure £250,000 in funding to help tackle any job losses at a closure-threatened seafood plant.
Young's Seafood wants to move production from Pinneys of Scotland in Annan to Grimsby.
Dumfries and Galloway Council is to apply for support from the South of Scotland Enterprise Partnership.
If successful it would allow an action team to work to try to secure jobs and ensure "sustainability and resilience" for the Annan area.
Sean Marshall, who chairs the Annan regeneration steering group, said the funding was urgently needed to develop an action plan immediately.
Councillors were told that they wanted to learn lessons from Hawick where the Scottish government has provided significant support.
"Whilst everyone is working towards securing the best outcome for the Pinneys workforce, the worst case scenario could see the loss of between 500 and 700 jobs by the end of 2018," said Mr Marshall.
"Annan is currently an economic ticking timebomb and we need to act quickly to stop Annan and the surrounding area turning into an economic wasteland."
His motion was seconded by Henry McClelland.
He said action was needed now to help mitigate the impact of the move across the area.