Prison row over black pudding breakfast 'deal'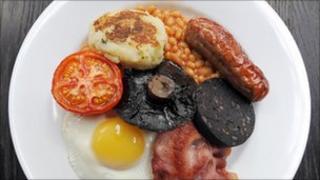 A prisoner has had six months added to his sentence after he admitted breaking an inmate's cheekbone in a dispute over black pudding.
David Michie, 26, from Glenrothes, lashed out at fellow prisoner Jia Yun Xie, 41, in a row over the breakfast inmates are given at weekends.
Michie admitted injuring Xie, by punching him on the head in Perth Prison's C Hall on 20 September 2009.
He was sentenced by Sheriff Donald Ferguson at Perth Sheriff Court.
The sheriff was told that there had been a misunderstanding over a regular deal two of the inmates did to swap their potato scone for black pudding.
'Weekend fry-up'
Fiscal depute Alan Kempton, explained: "Xie does not speak English and as a result does not interact much with other prisoners.
"He was watching TV in his cell.
"The accused entered and began to shout things he did not understand.
"The accused punched him on the head. The complainer rang his cell buzzer for assistance and managed to leave the cell."
Mr Kempton told the court that Xie, who is facing deportation at the end of his sentence, suffered a fractured cheekbone as a result of the single blow to his face.
Solicitor David Cranston, defending, said the origin of the attack was rooted in an on-going arrangement over the swapping of parts of the weekend fry-up.
He said his client had shared a cell with an Andrew Turnbull, who had formed a friendship with Xie and had often "swapped brunch items" with him.
He added: "It seems trivial, but at weekends in the prison they received a cooked breakfast and Mr Turnbull didn't like potato scones and Xie didn't like black pudding so they swapped."
But after Turnbull left jail Michie attempted to continue the food swap deal.
China cup
Mr Cranston said: "Mr Michie pointed to the black pudding and asked if he wanted to swap food items.
"He thought he was being kind, but in response he got a dirty look."
There was a clash between the prisoners and a china cup - belonging to one of Michie's friends - was broken during the initial scuffle.
The court was told that Michie then retired to his cell to "brood" before deciding to attack Xie.
Mr Cranston said: "This was not a case where there was no degree of provocation. There was clearly a background."
Sheriff Ferguson told Michie: "You have an appalling record for someone who is only 26.
"In my mind there is no alternative to a custodial sentence."
He jailed Michie for six months at the end of his current sentence, of just over 50 months.