Mother killed in New York crash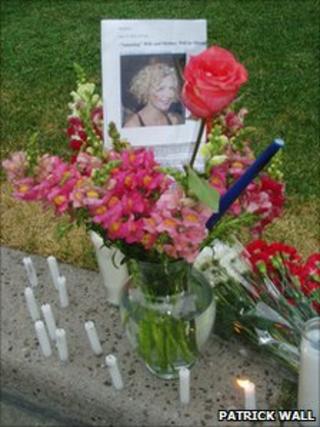 A Scots mother of three, described as "one in a million", has been killed in a car crash in New York City.
Aileen McKay-Dalton, 40, who grew up in Port of Menteith, near Callander, was killed when her Vespa scooter collided with an SUV at traffic lights.
The cause of the collision is being investigated by the Brooklyn District Attorney's Office.
Neighbours and friends held a candlelit vigil for Mrs McKay-Dalton at the crash site in Fort Greene, Brooklyn.
A memorial service has also been held in Callander.
She will be buried in the family plot in Tigh-na-Dig, Port of Menteith, on 31 July. The crash happened on 8 July.
Her husband Michael Dalton told the New York Daily News website: "She was everything... It's just so horrible, I can't even talk."
Friends have paid tribute to Mrs McKay-Dalton on a Facebook page set up in her memory.
Elizabeth Davison, who met her at Imperial College, London, in 1990 said: "Aileen was one in a million.
"It's hard to believe that it's 20 years since I first met this crazy, wonderful, funny, glorious woman one night at Imperial College. And even harder to believe that she has gone."
Another friend, Marcia Williams Jackson, said: "Aileen was a true inspiration of a life well lived and thoroughly enjoyed. I feel blessed to have known her, if only for a short time."
She added: "She was truly vibrant, witty and a great mom. Mike and her wonderful children - my heart and prayers are with you and your family."
Mrs McKay-Dalton leaves behind an eight-year-old daughter Lottie, two sons Manus and Jones, and a husband, Michael Dalton, who met his future wife while the pair were at high school in Scotland.
Aileen married Mr Dalton, who grew up in Gartmore, Stirling, in a ceremony held on the island at the Lake of Menteith in 1999.
They had lived in the New York area for the past 16 years.
A spokesman for the District Attorney said an investigation was taking place into whether a crime had been committed.