Man sentenced over petrol fire threat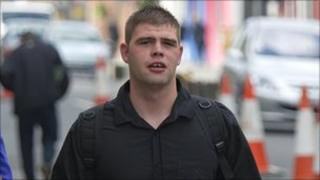 A man dowsed his clothes in petrol and threatened to set fire to himself outside his home, a court has heard.
Daniel Harding climbed into a wheelie bin and held police at bay with a cigarette lighter after falling out with his wife at their house in Perth.
He had earlier told his wife Nicola Harding that he wanted to kill himself.
Harding, 20, admitted breaching the peace. He was placed on probation for 18 months and was ordered to undergo drug and alcohol treatment.
Perth Sheriff Court head the couple had argued on 6 September 2009 and then gone to bed, but Harding got up in the early hours and went to the attic to retrieve a rope.
Fiscal depute Rebecca Kynaston said he had told his wife of three years: "Nobody wants me, I'm going to kill myself."
Police stand-off
But Mrs Harding managed to talk him down and the couple went to the kitchen, she said.
Harding then stormed out the back door and went to the shed, followed by his wife.
"He then picked up a can of petrol which he poured over himself," Mrs Kynaston said.
"He went to the house and picked up a cigarette lighter before returning to the shed to pour more petrol over himself.
"Mrs Harding feared he was going to set fire to himself and she contacted the police. Officers arrived and immediately detected a strong smell of petrol."
Harding warned the officers not to come any closer and they tried to negotiate with him while searching for a fire extinguisher. He gave up the lighter 15 minutes later and the stand-off came to an end.
He also admitted shouting and swearing and breaching the peace at another Perth address on 24 May, and breaking a bail ban on seeing his wife on 13 June.
Sentence on the other charges was deferred to 29 October.