Sir Walter Scott's 'lost poem' discovered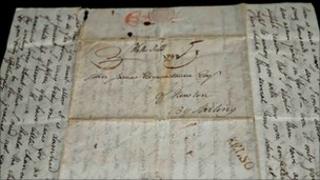 An unpublished poem by one of Scotland's greatest writers, Sir Walter Scott, is to be read in public for the first time.
The poem, called The Hills of Killearn, is part of a "hidden collection" of documents kept at Cambusmore House near Callander.
Sir Walter spent many holidays at the house as a young lawyer.
The nine letters in the collection, written over a number of years, will be going on display in Callander.
For more than 200 years, the poem and correspondence has been in the care of the Baillie-Hamilton family of Cambusmore House.
The letters were written to an associate of Sir Walter who used to live there.
The reading and exhibition are part of the "ScottsLand" programme, which marks the 200th anniversary of Sir Walter's famous The Lady and the Lake poem.
Trossachs inspiration
ScottsLand director Elspeth McLachlan said: "The discovery of the unpublished poem and letters is very exciting.
"We are very lucky that the Baillie-Hamilton family have given us access to these wonderful examples of Scott's writing.
"The letters show what a strong influence the Trossachs had on Scott and how they inspired him to produce some of his most popular work."
The poem was written during one of Sir Walter's many visits to the area and mentions several local places, including Aberfeldy and Callander.
Its first reading will be on 14 September in Roman Camp Country House Hotel in Callander.
The letters will be displayed at the town's McLaren Leisure Centre on 11 September and then at the Loch Lomond and Trossachs National Park office the following week.