Call for Stirling martyrs statue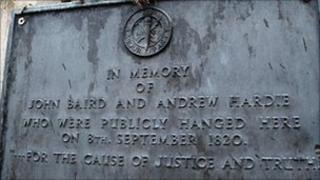 A museum curator has called for a statue to commemorate two 19th Century weavers who were executed in Stirling for demanding the right to vote.
John Baird and Andrew Hardie were publicly hanged at the city's tolbooth in September 1820.
Another man, James Wilson, was executed on Glasgow Green, while 19 others were transported to Australia.
The curator of the town's Smith museum said the event was an important part of Scotland's political history.
Elspeth King said the existing plaque to commemorate the event at the tollbooth was easy to miss.
She said it was time to mark the site with a bronze statue or street sculpture, so that the weavers' contribution to the development of democracy was not forgotten.
Baird and Hardie were buried in paupers' graves in Stirling, but the bodies were exhumed in 1847 and taken to Glasgow, where they were re-interred at Sighthill, where a monument now stands.