Seven years for drink-drive death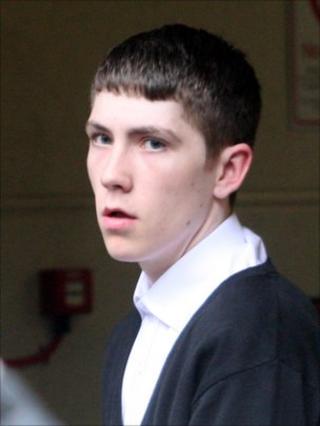 A teenage drink-driver who knocked down and killed a trainee teacher has been sentenced to seven years' detention.
The High Court in Edinburgh heard that Jamie Dolan, 17, had never been behind the wheel of a car before the crash in Dundee on 1 January.
He ploughed into Caroline Cumming, 24, and boyfriend Scott Ramsay, 23, as they left a New Year party.
Mr Ramsay was left with serious injuries. Dolan, from Dundee, admitted causing death by dangerous driving.
In sentencing Dolan, judge Lady Smith said: "You had no business to be driving on 1 January 2010.
"You had no licence, no insurance and no driving experience.
"Your driving was dangerous and it caused death and serious injury.
"I am advised that you realise that and that you are now full of guilt and regret and I very much hope that is the case."
Lady Smith added: "No sentence that I pronounce can restore Caroline Cumming's life or reverse the physical and emotional effects on Scott Ramsay of this terrible incident."
Lady Smith also banned Dolan from driving for 15 years.
Dolan's defence solicitor advocate Chris Fyffe said Dolan was "sorry" and "agonised" over the tragedy his actions had caused.
He added that he struggled to come to terms with the magnitude of the consequences and was unable to speak about it before breaking down.
Mr Fyffe said the teenager had been affected by his mother's drug abuse and chaotic lifestyle and had also been rejected from the family home.
Bottles of vodka
At an earlier hearing, the court heard that Dolan had lost control of a Ford Mondeo while driving at 60mph in a 30mph zone, and smashed into Miss Cumming, who died at the scene.
He was then seen fleeing the car, which crashed on Arbroath Road, carrying two bottles of vodka.
The court was told that a police dog was able to track Dolan to his home, where he was found with fragments of windscreen glass in his jumper.
It was later calculated that he was two and a half times the drink drive limit at the time of the crash.
Outside the High Court in Edinburgh, Caroline's father, Stephen Cumming, 55, who stood with wife Val, their son Christopher and Mr Ramsay, read a statement.
He said: "Jamie Dolan was today sentenced to seven years for killing our daughter Caroline.
"Caroline was robbed of her hopes, and dreams, and of her life, and no sentence can ever compensate for this.
"Sadly, too many innocent lives are being needlessly taken in similar circumstances by individuals like Jamie Dolan, who have no regard for the lives or property of others.
"He is a callous and remorseless offender with more than 40 juvenile convictions who was more concerned with retrieving two bottles of vodka from the wreckage of the stolen vehicle than in trying to help Caroline or her seriously injured boyfriend Scott.
"There is not a moment in the day that Caroline is not in our thoughts and we all miss her so very very much."