Girl dies after being hit by cars on A9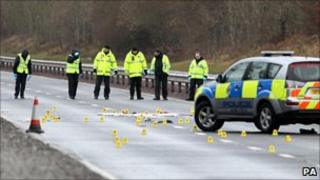 A 16-year-old girl has died after being hit by a series of cars as she was walking along the A9 in Perthshire.
Elli Williams, from Auchterarder, was found on the southbound carriageway near Auchterarder shortly after 2200 GMT on Tuesday.
Officers are speaking to a number of the girl's friends who were nearby at the time of the incident.
Tayside Police said several drivers had come forward to say they may have hit the girl as she lay in the road.
The A9 was closed in both directions until Wednesday evening to allow a crash investigation to take place.
Supt Tony Beveridge said: "We have already had a number of drivers come forward reporting that they may have hit the girl as she lay on the carriageway.
"It would have been dark at the time of the incident and it's possible that some drivers may even have thought that they have hit an animal.
"I would urge any drivers who were travelling on the A9 southbound last night to check their vehicles and to get in touch with us if there is any possibility that they may have hit something on the road."
Elsewhere, the M9 was closed in both directions near Stirling after eight vehicles were involved in three separate crashes.
Central Scotland Police said a number of other collisions on the M876 and M9 had been caused by black ice.
Ch Insp Donald McMillan said: "Motorists should reduce their speed and drive carefully. While the roads may look wet this can be deceiving and it may actually be stretches of black ice."
On the M9 northbound, five vehicles were involved in two separate collisions between Junction 8 and Junction 9.
One man was trapped and freed by Central Scotland Fire and Rescue. The others were described as being slightly hurt.
A marked police car, parked in front of the collisions to protect the scene, was also badly damaged after a car lost control and hit the vehicle. Officers were not in the car at the time.
The M9 southbound between Junction 9 and Junction 8 was closed after a vehicle left the carriageway.