Toddler's 999 call to report drunk babysitter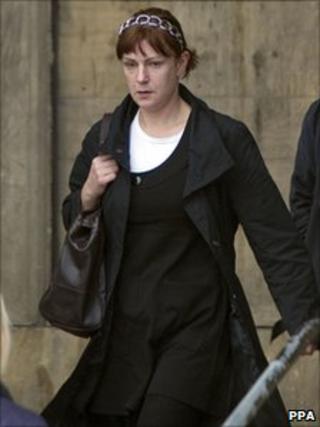 A three-year-old boy dialled 999 on a mobile phone and told police he was concerned about the drunken state of his babysitter, a court has heard.
Police officers who came to the house found babysitter Jacqueline Robertson drunk, having consumed more than a bottle of wine.
The 39-year-old, from Perth, lashed out when they tried to remove the child, throwing a glass at one of them.
Robertson admitted assaulting PC Isobel Strawson at the house in Aberfeldy.
Perth Sheriff Court heard that 999 operators had received a call shortly after midnight on 16 October from the child, saying the woman who was looking after him needed help.
Fiscal depute Rebecca Kynaston said: "The front door was locked and when they rang the doorbell the three-year-old came to the door. When he was informed it was the police he unlocked the door for them.
"They shouted that it was the police but there was no immediate reply. The accused was found sitting in the living room and officers asked about her well-being."
Mrs Kynaston said it was "obvious" the accused had been drinking, but the officers left as they had no immediate concern for the child's safety.
Following a second 999 call - this time from a female caller - they returned to the house, but were told they were not needed.
The fiscal depute said officers told Robertson she and the child looked exhausted and advised them to go to bed.
'Regrettable'
But the babysitter became aggressive when they suggested the child should be sent to a relative' s house to spend the night because of her condition, the court heard.
Mrs Kynaston said that when Robertson started shouting and swearing at officers the boy became upset and was "screaming".
"She picked up a glass from the kitchen area. She threw it towards the police constable. The glass hit the ground near her and smashed on the stairs."
Solicitor David Holmes, defending, said his client's drunk state explained her "regrettable behaviour".
"She was well into a second bottle when this took place. She realises the trouble she has caused and doesn't drink to that level anymore," he said.
Sheriff Robert McCreadie deferred sentence for a month and called for social work reports.