Stirling vets pull mobile from dog's stomach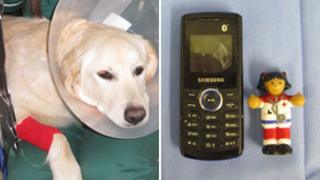 Vets had to perform life-saving surgery on a six-month-old puppy after he swallowed his owner's mobile phone.
Dog-lover Paula Connelly said she had no idea where her mobile had got to until she got a call to say it had been pulled from her pet's stomach.
Sam, a golden retriever, had also swallowed a small toy doll, which was recovered during the same operation.
Helen Sutton, from Broadleys Veterinary Hospital in Stirling, said he could have died without the surgery.
"The dog came in at the beginning of last week vomiting, but we could see no cause for the vomiting," Ms Sutton said.
"They thought Sam had swallowed a doll but they weren't sure. We did an X-ray but nothing showed up.
"Then he must have subsequently eaten a phone."
When Sam was still being sick on Thursday, his owners took him back to the veterinary hospital to be operated on.
The vet opened up his abdomen to examine his stomach and intestine and thought she could feel a mobile phone.
Ms Sutton told BBC Scotland: "She opened the stomach and put her hand in and sure enough it was a phone. We called the owner who said she wondered where it had got to.
"It's like one of those old brick mobiles - it's amazing he managed to swallow it. He's only a six-month old puppy."
She added: "Without surgery he would have died."
Mrs Connelly, from Stirling, said she had taken Sam into the vets every day from 10 to 13 January because he was continually being sick.
"He ate a doll first, but we didn't know," she said.
"On Thursday morning, my mobile phone went missing. I couldn't find it anywhere - I thought my son might have taken it.
"I never thought the dog could have eaten it in a million years."
Ate pants
She said the acid in Sam's stomach had destroyed the phone and it was now useless.
"I had to go to O2 to say my dog ate my phone - but I don't think they believed me," she said.
The toy nurse, a Christmas present belonging to Mrs Connelly's three-year-old son Jack, has also been thrown away after almost a week in Sam's stomach.
And Sam's owners have been forced to take him back to the vets since his operation - after he ate a pair of pants.
However, this time the golden retriever was able to bring them back up and did not need more surgery.
Mrs Connelly said they were going to take him to an animal behaviourist to try to wean him off his swallowing habit.