Teenage thief traced by mother using Bebo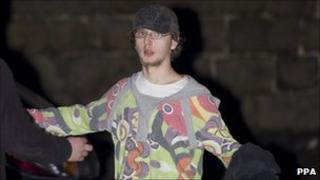 A teenager who fled to a Greek island after stealing £1,700 from his grandfather was tracked down by his mother using a social networking site.
Thomas Lumsden's mother traced him to Crete using his Bebo page after he fled from Scotland.
He had flown there after visiting his grandparents to collect his 18th birthday present, but also stole his grandfather's chequebook.
The money was used to pay off drug debts. Sentence was deferred.
Perth Sheriff Court was told that Lumsden had become a pariah within his family and his parents could not bear to talk to him, so contacted him through his web page.
The teenager admitted in December 2009 to stealing the money from his grandfather. His sentence was deferred for six months for him to be on good behaviour.
But Sheriff Lindsay Foulis said he had gone abroad in May 2010 and had received a message from his mother implying that he had not paid any of the money back.
Drug debt
He added: "He [Thomas Lumsden] went off to Crete in May last year and there was an email from his mum. The implication behind that was that he hadn't paid anything towards his gran.
"He didn't come back for his deferred sentence so a warrant was issued for his arrest."
Solicitor Jim Eodanable, defending, said Lumsden had gone to Greece to "get away from circumstances here which were not of assistance to him".
"The money was taken to pay a drug debt. He was told that if he didn't pay his family would suffer," he said.
"He did a stupid thing. He went to Greece hoping to find gainful employment, but the economic situation was difficult and it was difficult to find employment.
Mr Eodanable said Lumsden's father had settled the debt. Lumsden had also apologised to his grandparents when they visited him in Greece in September 2010, he told the court.
When Lumsden's parents realised there was a warrant for his arrest, his mother helped him pick olives to earn the £156 airfare back to Scotland from Crete.
Sheriff Foulis deferred sentence again for the preparation of up-to-date reports and granted Lumsden bail after he surrendered his passport to the court.
Lumsden was bailed to a family friend's home in Goshen Road, Scone, and told to sign on at Perth police HQ three times every week.