Crieff nuclear bunker goes up for sale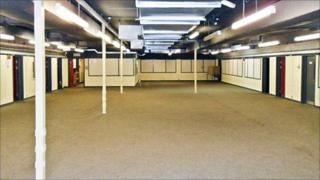 A bunker built for Scottish Office staff in the event of a nuclear attack is up for sale.
The complex at Cultybraggan Camp near Comrie, Perthshire, was completed in 1990 and is believed to be one of the most advanced structures of its kind.
It was built to house 150 people and protect them from nuclear, biological and electromagnetic attacks.
Comrie Development Trust, which owns the bunker, said the asking price was £400,000.
The trust bought the facility - along with the former prisoner-of-war camp where it was built - in September 2007 for £350,000.
The community will continue to own and develop the camp for community projects.
Andrew Black, from property consultancy Carter Jonas, said the bunker would have had its own BBC studio, telephone exchange, canteen and dormitories.
Its aim would have been to protect the people charged with planning the rebuilding of a "post-apocalypse Scotland".
"This really is a unique property, with over 13,000 square feet of space on each of its two floors, air filtration plants, backup generators and water storage tanks," Mr Black said.
"It only went on the market this week but we have already had interest from the USA and Germany, as well as the length and breadth of the UK, with a wide variety of ideas and proposals for possible usage."
Mr Black said the bunker would make an ideal location for secure data storage, a wine warehouse - or anyone with a "nervous disposition".