Tayside Police in bid to cut wages bill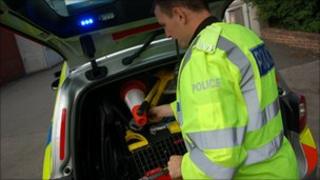 Nearly 60 Tayside Police staff have applied for voluntary redundancy or early retirement under a scheme designed to cut £1.2m from the force's annual wage bill.
The move is part of a bid by Tayside Police to achieve £4.3m in savings over the next financial year.
The force is to maintain at least 1,229 police officers, as required under targets set by the Scottish government.
A total of 56 staff have now applied for the scheme, police confirmed.
Other savings identified in the annual wage bill include a 10% reduction in police overtime and cuts in transport costs and police bonus payments.
Chief Constable Justine Curran told Tayside joint police board the 56 applications were now being evaluated.
'Significant savings'
She said: ''These schemes will offer significant savings and we will update the board once the evaluation process has been completed.
"What is clear is that, with potentially 56 fewer members of staff, we will be a significantly smaller organisation and we must work to ensure that there is as little service diminution as possible.
"However, I cannot sit here and say that losing 56 members of staff will have no effect to our service.''
Tayside joint police board convener Ian Mackintosh said: "These are the most financially-challenging times in my time as convener and possibly since the board was created 16 years ago, leading to great uncertainty for Tayside Police.
"But there is a duty for the board to deliver a budget that will, as far as possible, allow Tayside Police to continue to provide the best service to the public.''
Meanwhile, proposals are being drawn up by four Scottish forces to collaborate in several areas of policing.
Tayside Police, Fife Constabulary, Lothian and Borders Police and Central Scotland Police are to submit proposals to their chief constables on collaborating in roads policing, firearms provision, legal services and training by 31 March.