Scotland's first Community Payback Order imposed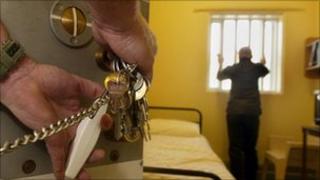 A man who has committed 160 offences has had the country's first Community Payback Order imposed on him.
Laurence Winters, 39, who has criminal record going back 24 years, was placed on the new scheme at Perth Sheriff Court following a public order offence.
Instead of jailing Winters, Sheriff William Summers ordered him to carry out 60 hours Community Payback, a scheme introduced this week.
Winters has a total of 98 convictions relating to 160 separate charges.
'Short sentences'
Sheriff Summers told Winters: "You have the unenviable distinction of having just about the longest record I have ever seen.
"Most of it, and particularly the more recent convictions, are public order offences.
"He has been dealt with by short prison sentences which I am told I cannot do now. I am going to impose a Community Payback order."
Winters admitted behaved in a threatening or abusive manner by shouting and swearing and threatening to desist for police officers at Nimmo Place, Perth on 3 February.
The court was told that Winters, who appeared from custody, had only been out of jail for a fortnight when he was charged in the early hours of Thursday morning.
Solicitor David Holmes, defending, admitted his client had "a very long record" and had been living on the cash given to prisoners when they are released from jail.
He told the court that his client had suffered a heart attack about two weeks ago.
Mr Holmes said: "Today is the first time I heard about the heart attack. He discharged himself after being in hospital two days.
"He is in custody so often he misses medical appointments. What this man needs is someone to look after him."
After being asked if he was fit to carry out community payback, and being told he would otherwise be jailed, Winters said he was ready to go on the scheme.
The Community Payback Order came into force on Tuesday and is aimed at getting low-level criminals to do manual labour instead of serving time in jail.