Bonnybridge shed blaze prompts investigation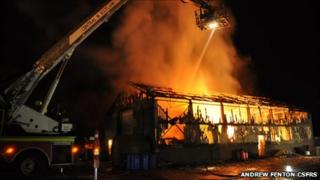 An investigation has been launched into the cause of a blaze which completely destroyed a large storage shed in Bonnybridge, near Falkirk.
Central Scotland Fire Service said they received more than 20 calls from the public after flames were seen coming from the structure at about 0200 GMT.
More than 30 firefighters attended the fire at the unit, near Broomhill Road in High Bonnybridge.
The brigade said no-one was injured in the incident.
The shed, which measures 22m x 12m, sits next to St Joseph's Primary school in the town.