Dundee University staff and students on strike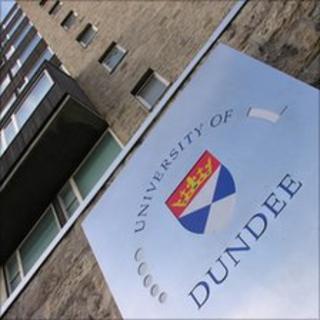 Lecturers and students at Dundee University are staging a day of action in a protest over job cuts.
Dundee University and College Union (UCU) said it feared that about 193 people could be made compulsorily redundant in the drive to cut costs.
Many students also joined the 24-hour strike and a protest rally, union leaders said.
The university has said that compulsory redundancies would only be used as a "last resort".
Job cuts were announced in October as part of a package of measures aimed at saving £8m a year.
The university has said most of these job cuts will be made through "natural wastage" and a voluntary severance scheme, which is still open.
Dundee UCU president Dr Carlo Morelli said there had been a "remarkable" turn-out at the picket lines.
'Equality' threat
"It's very well supported by a lot of people with about five or six picket lines," he said.
"The student union voted unanimously to support the strike today so students are also having a day of action in defence of education."
A ballot by members of the Dundee UCU voted for strike action in January.
Union leaders said their members were "alarmed and concerned" at the threat to the equality of education as a result of Scottish government cuts to higher education.
The university said it was "very disappointed" at the strike action, but added services were running "very close to normal" with the majority of lectures taking place as timetabled.
A spokesman said: "The university sees continuous and constructive dialogue with the unions as being the way forward instead of disruptive action.
"As we have consistently stated compulsory redundancy would only ever be used as a last resort in reducing staff numbers."