Abertay University reinstates its vice-principal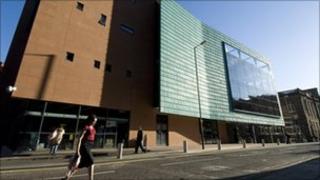 The vice-principal of Abertay University in Dundee has been reinstated following an investigation.
Professor Nicholas Terry was suspended in January, but returned to work on 4 March, the university said.
He has now taken over as acting principal and acting vice-chancellor in the absence of Professor Bernard King, who was suspended in a separate probe.
The university has not released any information on the reason for either of the suspensions.
A spokesman confirmed Professor Terry's suspension had been "rescinded" following an investigation into the "issues raised with it".
He added: "A separate investigation into other issues is ongoing and as a result the principal and vice-chancellor Professor Bernard King remains suspended.
"We will not comment further while that investigation continues."
Professor Steve Olivier - who had been acting principal - has now been made acting vice-principal, the university said.
Both the suspensions are said to have shocked staff working at the university.